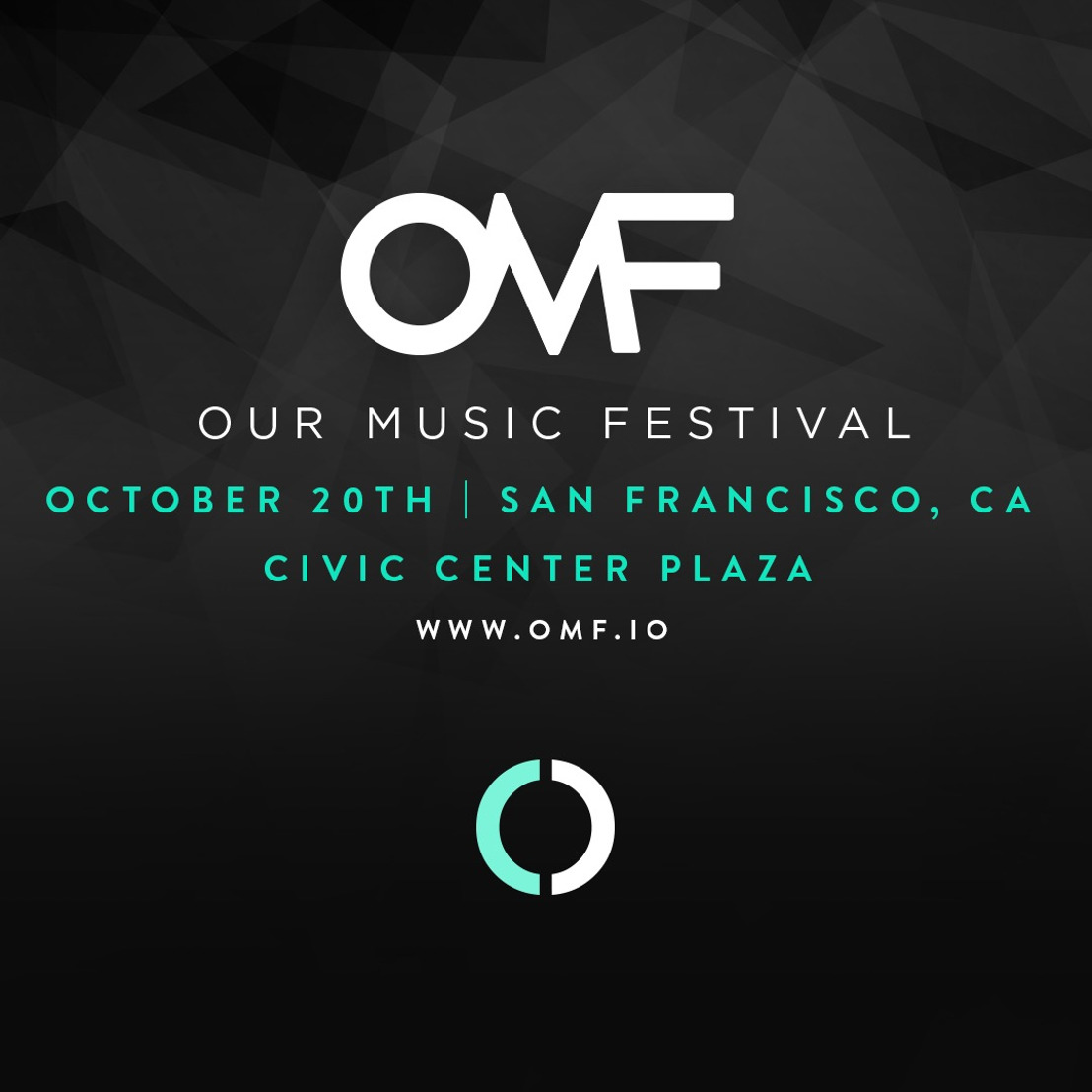 FIRST-EVER BLOCKCHAIN-POWERED FESTIVAL, OUR MUSIC FESTIVAL, TO BE HELD IN SAN FRANCISCO OCTOBER 20 - FEATURING ZEDD
Thursday, June 21, 2018 —
Acclaimed electronic dance music producer, 3LAU, groundbreaking blockchain entertainment studio SingularDTV, and one of the largest independent festival promoters in the US, Prime Social Group, have joined forces to change the way fans experience live music forever. Uniting the worlds of entertainment and technology the partners will launch the first-ever "blockchain-powered festival network," appropriately titled OUR Music Festival [OMF].
The first OMF event will take place at San Francisco's Civic Center Plaza on October 20 and will feature Platinum selling and multi-Grammy winner Zedd. The bill will be rounded out by some of the hottest names in hip-hop and EDM and will be announced in the coming weeks.
The OMF team includes digital marketing firm CrowdWaves. AM Only founder and Paradigm partner Paul Morris, as well as agency power players Lee Anderson, Hunter Williams, Sam Hunt, and Phil Quist will be joining as strategic advisors on the event and talent side of the festival.
After exploring the potential synergies between blockchain technology and the festival business, the partners have identified solutions to mitigate ticket inflation, counterfeiting, scalping, lack of consumer control and dozens of other inefficiencies that plague the industry. The OMF team ultimately believes that festival creators must place more power in the hands of fans to spark a necessary evolution of the live music space. Future editions following this year's launch will see OMF leveraging the power of Ethereum and smart contract technology even more. Fans could earn crypto-currency simply by participating in the festival ecosystem, thus providing value. As the tech behind OMF develops, fans may redeem OMF Tokens for tickets, VIP upgrades, exclusive access, merchandise, food, beverages, and more at future OMF festivals and partnered events.
In the long term, the OMF team is building technology that will enable token holders to influence festivals themselves, from lineup to location. Following the inaugural event, the OMF Token will be available publicly, and the team will announce its partnerships with artists & festivals around the world.
OMF CEO Justin Blau (aka 3LAU) remarks "The blockchain space is littered with promises that lack real world application. We're throwing our first event this year to show our commitment to inciting change. While it will take time for OMF to reach its full potential, our team has studied blockchain-layered applications and legal compliance for years to facilitate realistic steps toward decentralization."
Prime Social Group Co-CEO + Founder Adam Lynn states "With over 900 concerts and 50+ festivals produced in our career at PSG we've learned all the positives of this amazing industry. We've also found some room for improvements and with the team of incredible partners and technology experts we are going to break down some barriers that we never would've thought had been possible. OMF will revolutionize the live events business in a major way and I am ecstatic to be part of the team leading the charge."
SingularDTV CEO Zach LeBeau adds "It takes vision and grit to bring something as special as OMF to fruition. With so many projects focused solely on their ICOs, being able to have a music festival this year itself is a huge step for all of us. OMF is here and now ― it will only get better in the future with increased features and functionality."
Watch the preview video HERE.
Ultimately, festivals change forever with OMF. Be on the lookout for more information and news very soon via OMF's official Facebook, Twitter, Instagram and Telegram.
ABOUT 3LAU:
Justin Blau, AKA 3LAU, is a rarity in the music industry: A successful recording artist, DJ, and producer whose main goal is not fame, but helping others. Raised in New York and Las Vegas by parents who emphasized the importance of charitable work, Blau left college, where he studied finance, and the promise of a career in business to pursue his dream of making music. He went on to release a string of well-received original tracks, including "How You Love Me," "Is It Love," "Fire," "On My Mind," and "Hot Water," as well as remixes for Rihanna, Katy Perry, Shawn Mendes, and Ariana Grande — all of which have racked up millions of streams. Most recently, he released his debut album, Ultraviolet, which reached #1 on iTunes Dance. He also built his reputation as a must see live performer, appearing at such major festivals as Electric Zoo, EDC Vegas, and Lollapalooza, and tours extensively internationally. But unwilling to take and not give back, Blau has used his business savvy to parlay his success into doing good. In 2016 Blau launched Blume Records, an independent label with a ground-breaking model that harnesses the power of streaming to raise money for charitable causes.
ABOUT SINGULARDTV:
SingularDTV is a decentralized entertainment studio utilizing blockchain technology to create tokenized entertainment economies that empower both content creators and consumers. Built on Ethereum, these applications provide filmmakers and artists the tools to capitalize on its proprietary blockchain-based technology in order to fund, distribute and market their content, in a peer-to-peer ecosystem, eliminating traditional funding obstacles. Follow us @singulardtv.
ABOUT PRIME SOCIAL GROUP:
Prime Social Group is based in Columbus, OH. The "OMF" brand is one of over 16 festivals produced annually by the fast-growing full-scale production and promotions company. Lead by Adam Lynn and Zach Ruben, the PSG team specializes in bringing a fusion of top electronic music with a refreshing focus on hip-hop to more than 900+ events around the world from Ohio, to Barcelona, to Puerto Vallarta. Along with bringing today's top artists to thousands globally, Prime Social Group also continues to be a barometer of who and what's next in dance and hip-hop music. To learn more about the company, please visit www.primesocial.com and follow @primesocial on social media.
For more information, contact:
3LAU
Max Frieser: mfrieser@infamouspr.com
SingularDTV
Thessa Mooij: tmooij@singulardtv.com